Bangalore International Mediation,
Arbitration And Conciliation Centre

Training
TRAINING PROGRAMMES IN ARBITRATION AND MEDIATION
BIMACC offers basic training programme for arbitration for domestic as well as international arbitration. The twelve hour certificate programme in arbitration is conducted by eminent arbitrators and a forty hour certificate programme for mediation is conducted by eminent resource persons in mediation. On completion of the forty hour programme, a completion certificate will be issued.
The completion certificate shall not however entitle a person to practice as a mediator, unless and until he co-mediates or mediates ten disputes under BIMACC or any other recognized institute of BIMACC. On completion of ten successful mediations, a certificate of practice will be given strictly on merits.
Certificate to practice mediation will also be offered to those who undertake to participate in a strict evaluation programme under observation of expert mediators.
NEUTRAL EVALUATION
A special one day certificate programme will be conducted for lawyers and judges on neutral evaluation and domain experts such as chartered accountants, company secretaries, cost accountants and technical experts in the areas of patents.
CONFLICT MANAGEMENT CERTIFICATE PROGRAMME
BIMACC offers various conflict management programmes for different schools. Conflict management is introduced as a course in the ninth grade in schools following any curriculum (ICSE, state boards and matriculations, foreign boards). The duration of the programme is 20 instruction hours and practical hours. Conflict management programmes are offered in the 11th Grade, Pre-university, graduate and post-graduate levels with 30 hours of lectures and practical training.
Workplace Conflict Management Certificate Programmes are also offered for companies, industries, commercial establishments, academic institutions, government offices and establishments. The duration of each such programme is 40 hours of instructions and practical training.
Family and community conflict management certificate programmes meant for persons of any walks of life, housewives, senior citizens, social workers, arbitrators, advocates, chartered accountants, doctors, engineers and other professionals. The duration of the programme is 40 hours of instructions and practical training.
For enquiries and schedules, contact info@bimacc.org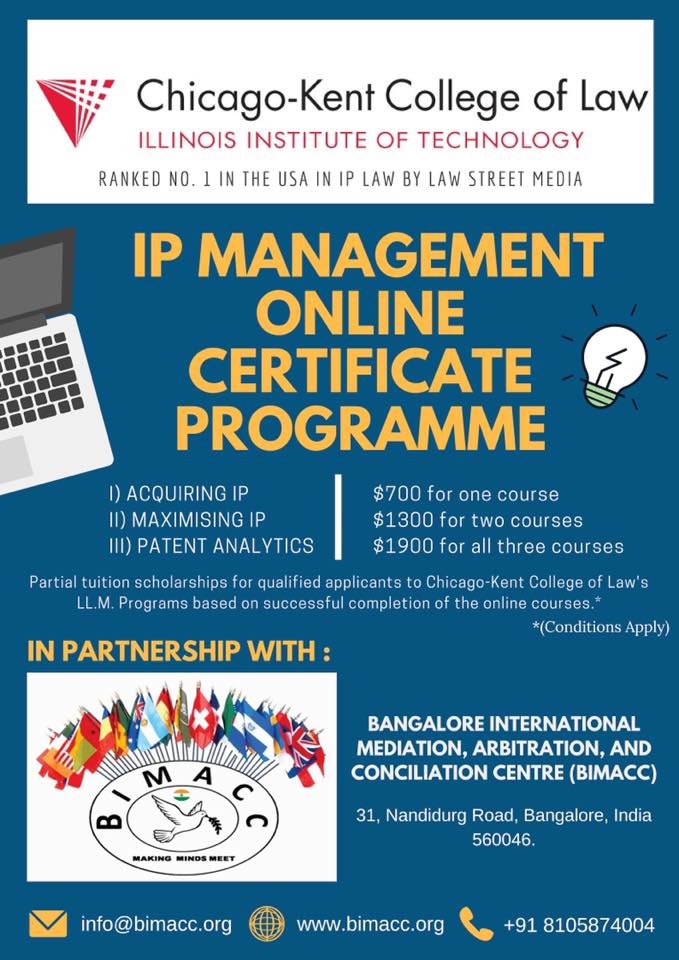 In partnership with the Bangalore International Mediation, Arbitration, and Conciliation Centre (BIMACC) in Bangalore, India, Chicago-Kent College of Law, Illinois Institute of Technology (Ranked no. 1 in the USA for IP Law by Law Street Media) will offer eligible students the opportunity to enroll in one, two or three courses in the online Certificate in Intellectual Asset Management (IAM) with a special tuition discount. Students will receive a certificate of completion for each course taken. Students who complete all three courses will receive the Certificate in Intellectual Asset Management and will be eligible for a partial tuition scholarship for the Master of Intellectual Property Management and Markets program. Chicago-Kent will confirm eligibility with BIMACC for all prospective students who apply through this program.
For more information click on this link:
https://www.kentlaw.iit.edu/academics/certificate-in-intellectual-asset-management/bimacc-partnership-program